The day is finally arriving when I'm about to compete again. On saturday I'm running the Danish Championship in relay for my new danish club, OK Pan Århus. I'm really looking forward to compete.! My last competition was Blodslitet 47 weeks ago so it has been a long jurney to come to this point once again. I think we have a really big opportunity to go home with the gold on saturday. We have a strong team of me, René R and Rasmus D and our biggest rivals will be Faaborg who has two 'old' stars and Tue L, so we really have to watch out for those. I'm not in my best shape, so think I'll struggle with the pace at least in my head ;) Can't say that I'm in a bad shape because I'm actually stronger than I had expected after such a long break. But we will see.
Like I said earliere it has been a long journey back. It as been ups and downs, with small problems and pain sometimes followed by periods with nothing at all. Worst part is that no one could definetly say that I can come back to elite orienteering. I just have a big wish to comeback so I have been patient and trying to play by the rules my doctors and physiotherapist have given my. It hasn't been easy and I have slipped some times but overall I have done it 'by the book'.
I'm currently on my 20th week of running and now able to run 5h20min a week. I have had a steady progression as the picture below shows. According to my phisotherapist I'm actually ahead of the schedule she made in the beginning, so we are taking a couple of weeks where I stabilize the running to make sure that we don't rush anything. Normally my week of running consist of 1 fast training, 2 trainings in terrain and 2 on paths. The rest of the training is strenght and mostly on my roadbike. The past weeks I have maintained a steady level to be sure that my body can handle the progression in running, because that is the most important part. There is enough time to be ready for next years WOC.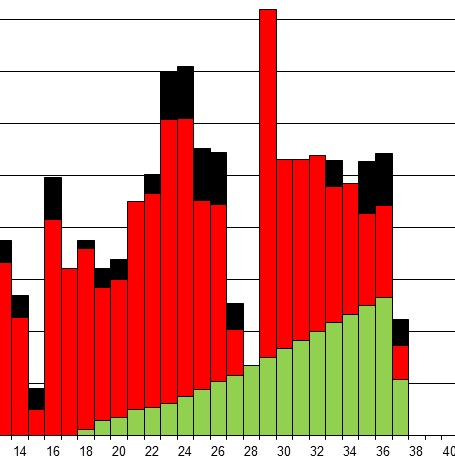 In the near future I'm planning on running 25-manna, going on training camp in Halden, maybe Smålandskavlen and 10mila camp. And maybe the national coaches will bring my to Switzerland so I can run the Sprint Relay and maybe even the Middle distance at the World Cup. I'm starting to feel like an orienteer again :)